Pretendian Country Today was all geared up for another fascinating Native America Calling show, this one featuring the Fauxdenosaunee musician we introduced everyone to earlier this week. Alas, it was not meant to be!
It turns out Liam McDonald aka OPLIAM doesn't want to talk about his tribal affiliation claims despite relying on being "Mohawk" to promote all of his commercial endeavors. So that's why he went missing from the May 27, 2022, program that had been promoted as a "celebration" of his music.
Native America Calling explained the controversy in a written statement posted on the program's social media channels. It reads:
We acknowledge we didn't adequately research the controversy over Liam McDonald's (OPLIAM) tribal affiliation claims before framing our Friday (May 27) show as a celebration of his music.

We regret not grasping the controversy sooner.

Once we learned of it, we hoped to reframe the discussion and have him answer criticisms about those claims.

We feel that discussion is important and informational for everyone.

Unfortunately, McDonald decided against participating in that forum, so we're forced to change directions in the immediate future.

We hope to schedule another day soMcDonald and his critics can air out what appear to be very legitimate questions about his purported Mohawk identity, and the importance of referring to identity in the most accurate and authentic way possible.
Native America Calling host Sean Spruce also addressed the controversy on the air. His words are embedded in the audio clip on top of the Substack. Here's what he said about the missing guest:
Right off the top, we want to acknowledge that some of you might be tuning in today to hear the musician Liam MacDonald, who goes by the name OPLIAM.

Since we first booked him as a guest and promoted the show, we were made aware of some concerns about his Native heritage — especially identifying himself as Mohawk.

In light of that, we were hoping to expand the discussion and hear his rationale for incorporating what he believes is his Native identity and what those appropriate boundaries are.

Unfortunately, Liam was not interested in participating in that discussion and we respect his decision.

So we're tackling a new topic today.

Please know, as always, Native America Calling is committed to discussing Native topics from a Native viewpoint and, as difficult as it is, we think discussions of identity and appropriation are part of that dialogue. And we will certainly provide another forum for that in the future.
So there you have it! Instead of the show that had been titled "All Roads Are Good for OPLIAM" Native America Calling spotlighted the Native elders who participated in the National Senior Games that just wrapped up in Fort Lauderdale, Florida. Tune in for a great discussion on "Elder competition and fitness at the National Senior Games."
Native America Calling on Twitter: https://twitter.com180099native/status/1530219395016011778
Native America Calling on Instagram: https://www.instagram.com/p/CeEVL7Krs_q/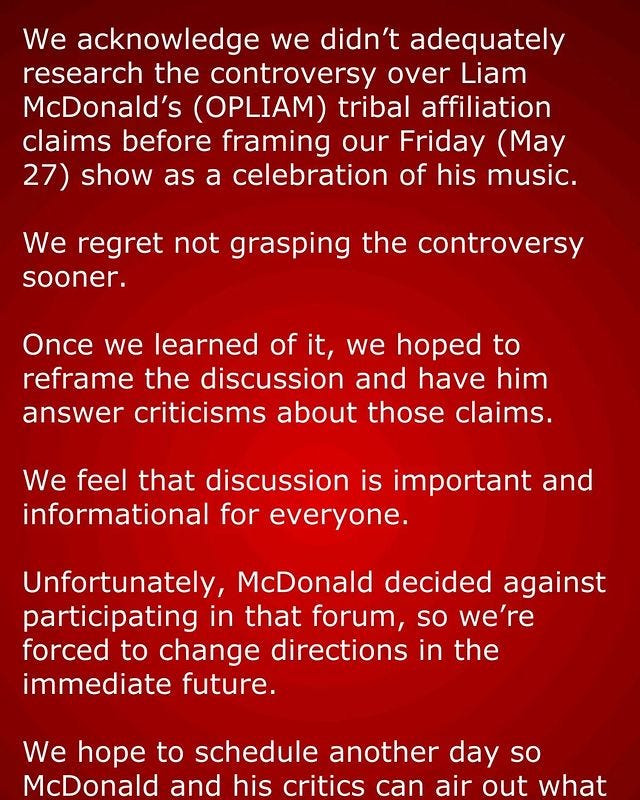 Native America Calling on Facebook:
https://www.facebook.com/nativeamericacalling/photos/a.84738606819/10158459141446820
But what does Liam McDonald aka OPLIAM think about all the controversy? There's no telling! He hadn't even promoted his Native America Calling appearance on his social media channels. Definitely, NOT on @opliammusic on Instagram, where he has managed to block countless Native users.
And if he was bothered by being booted from the show, errrrr, declining to participate in the show, he sure didn't show it on Instagram. Instead, he spent his Friday promoting his presence in the Twin Cities of Minnesota, where he was born and supposedly raised.
"Good morning," one of his stories on Instagram read.